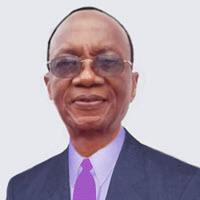 Joe Ordia, M.D., F.A.C.S., is a Diplomate of the American Board of Neurological Surgery. He joined the Department of Neurosurgery at the Boston University School of Medicine in 1979 as Clinical Instructor in Surgery and Attending Neurosurgeon at the Boston Medical Center. He was promoted to Assistant Professor in Neurosurgery in 1981, Associate Professor in 1986, and Full Professor in 1999.
He was Director of the Neurosurgery Pain Group, and Director of the Neurosurgery Spasticity Group. He was the acting chairman of the Department on several occasions. Dr. John Silber, who was the Chancellor of Boston University, gave a generous gift to the Department of Neurosurgery in honor of Dr. Ordia.
Dr. Ordia has given Grand Rounds at several prestigious institutions. They include Boston University, Harvard University, Tuft University, John Hopkins, Universidad de Chile, Santiago, Chile, National Naval Hospital, Medical College of Virginia, Duke University, University of Miami, McMaster University, Hamilton, Ontario, Canada.
He has served as an External Examiner for University of the Witwatersrand, Johannesburg, South Africa, and Reviewer for National Research Foundation, Pretoria, South Africa. He is a member of the Review Editorial Board of the International Journal of Spine Surgery. He has also done reviews for Neuromodulation.
Dr. Ordia was honored with the 2016 Department of Surgery award for Clinical Excellence and Professionalism by North Shore Medical Center, Partners Health Care.

His book, Dafidi and Abdul: Beyond Friends, is dedicated "To all who enrich the lives of others and the world through unconditional friendship and selfless giving. To peacemakers everywhere. To individuals who sow love where there is hatred. To those who protect our environment. To healers of the body, and healers of the soul. And to all who sacrifice and work through groups such as the Red Cross, Médecins Sans Frontières, Bill and Melinda Gates Foundation, and other humanitarian organizations."
Academic Appointments
Professor of Neurosurgery, Boston University School of Medicine.
Instructor in Surgery, Harvard Medical School (1978-1988)
Major Clinical Interests
Pain.
Spasticity.
Implantable Infusion Pumps.
Minimally Invasive Surgery.
Education
Bates College
University of Ibadan
Harvard University
Neurosurgery Residency
Children's Hospital, Harvard Medical School.
Peter Bent Brigham Hospital.
Massachusetts General Hospital.
Board Certification
Diplomate, American Board of Neurological Surgeons, 1982.
Fellowships and Certificates
Fellow of the American College of Surgeons, 1983
Advanced Trauma Life Support Instructor, American College of Surgeons, 1985.
Licensure
Massachusetts.
District of Columbia.
New York.
California.
Publications
Publications by Dr. Joe Ordia.
Research
Research by Dr. Joe Ordia