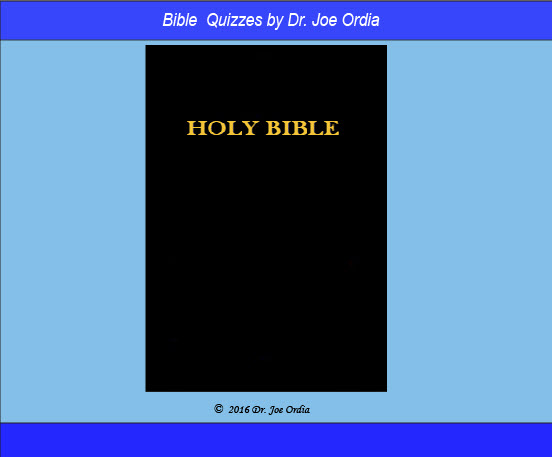 Bible Quizzes are written to spark your interest rather than to test your knowledge. It is OK to review and answer the questions, as an individual, a family, or as a Bible study group. The Passy Group was gracious to provide me with a feedback that they collectively answer one chapter at a time, and discuss the deeper Biblical message.
The Holy Bible is the word of God and the book of life. It is a religious book, and an inspirational and uplifting work. It is also a historical document.
I bring you a series of Bible Quizzes to share with you some of the most beautiful messages and lessons in the Holy Book. It is not about how many correct answers you come up with. It is more about getting you to reflect on the message of peace and love that Jesus taught us.
There will be several chapters, each with ten questions, and the correct answers will be provided at the end of each series. Reflect, contemplate, meditate, pray, and let the message be part of your life.
Biblical era were difficult times, and now we live in a tumultuous period. But the message is the same. We must not despair. All problems can be solved through dialogue, prayers, and peaceful methods. Those who are persecuted and aggrieved, or perceive that they are mistreated have a right to protest. We should always remember that more can be achieved through peaceful demonstration than through revenge and violence. Silence can sometimes speak louder than 100 decibels.
We are all children of God, and must learn the virtues of tolerance and forgiveness. The greatest king who ever reigned conquered the world without raising a sword, or commanding an army. His mission on earth was to protect the poor and those who have been unfairly treated, and jailed.
His manifesto was clear. "The Spirit of the Lord GOD is upon me, because the LORD has anointed me to bring good news to the poor; he has sent me to bind up the brokenhearted, to proclaim liberty to the captives, and the opening of the prison to those who are bound….." Isaiah 61:1.
Spread the Gospel. We are each other's keepers! God bless you.
I thank God for everything.